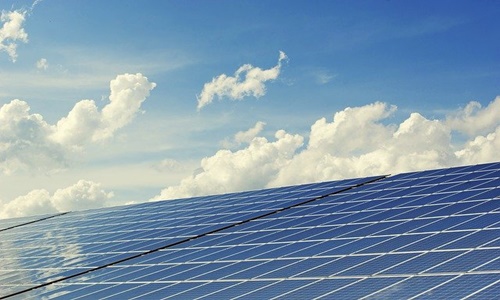 Emerge, a JV between France's EDF and UAE's Masdar, has recently signed a deal with Miral, a real estate development, management, and investment company, for installing solar energy systems at the theme park dubbed 'SeaWorld Abu Dhabi' presently under construction on Yas Island.
The project, which is said to have a capacity of 8.2MW, will see a rooftop solar PV (photovoltaic) system connected to Yas Island's marine-life mega-development along with the main building.
Emerge, aimed to expand into non-utility scale renewables and energy-efficiency investments will offer an overall turnkey solution, including procurement, design, and construction, as well as maintenance and operation services.
Speaking on the move, CEO of Miral, Mohamed Abdalla Al Zaabi said that this agreement with Emerge is a significant step taken in SeaWorld Abu Dhabi's sustainability approach. This new deployment of solar energy systems is in line with the progress towards further utilizing the capacity of sustainable sources across Miral's developments.
He continued that the collaboration is a significant environmental milestone highlighting the obligation to sustainability as the firm solidifies Yas Island's status as an inter-continental place to visit within the Emirates tourism network.
SeaWorld Abu Dhabi symbolizes the first brand new SeaWorld marine-life park in the last 30 years and the first outside the US.
The marine-life theme park is said to offer an exceptional immersive experience that helps visitors to engage from the UAE and around the globe, widening their understanding and knowledge of marine life.
Furthermore, this modernistic park will include the first dedicated center in UAE for marine research and education. Its rehabilitation operations and rescue will be the first for the region to bring back healthy animals to their native habitats.
The center will also be supporting the existing and upcoming marine life research on biological species while promoting global marine science and knowledge.
Source Credit - https://www.cbnme.com/news/emerge-and-miral-to-deliver-clean-energy-to-seaworld-abu-dhabi/