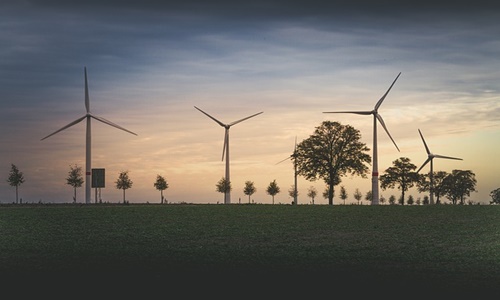 The Indian MNC Adani Enterprises Ltd reportedly announced on Wednesday that its subsidiary, Adani New Industries Ltd, has obtained a crucial international certification, enabling the commencement of manufacturing 5.2 MW series wind turbine generators (WTGs) targeted at global markets.
Previously, Adani had been exclusively engaged in the manufacturing and supply of 5.2 MW Wind Turbine Generators for the domestic wind industry.
In a regulatory filing Adani Enterprises Limited (AEL) stated that the 5.2 MW WTGs of Adani Wind are India's largest, have been received with type certification from wind energy leader WindGuard GmbH. This will allow the company to start series production for the international markets.
Notably, Adani Wind operates as the division for wind energy solutions under Adani New Industries Limited (ANIL), a Adani Enterprises Ltd's fully-owned subsidiary. The awarded certification, which adheres to standards concerning equipment for use in renewable energy applications, underscores that the company's 5.2 MW WTG meets the highest quality as well as safety criteria. This recognition on an international scale solidifies the turbine's standing, as mentioned in the filing.
ANIL Director Vneet Jaain expressed confidence by stating that the type certificate reaffirms the quality & robustness of the product platform, which is built to minimize the Levelised Cost of Energy.
Adani Wind's 5.2 MW wind turbine features impressive specifications, including a remarkable 160 meters rotor diameter and a towering tip height of 200 meters, solidifying its position as the one of the world's most potent onshore wind turbines.
The development of the 5.2 MW WTG has been a collaborative effort between Adani Wind and W2E Wind to Energy GmbH, Germany, manufactured at its facility in Kutch, Gujarat, India.
Jaain further added that the certification will boost the company's efforts of making India the global manufacturing hub for renewable equipment, with a focus on building a portfolio of domestically produced high-yield next-generation wind turbines.
Credit source: https://www.moneycontrol.com/news/business/adani-enterprises-arm-to-produce-5-2-mw-series-wind-turbine-generators-11365241.html