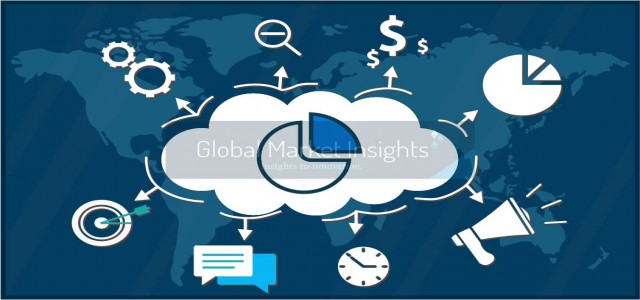 Cloud natural language processing market size is expected to surpass US$ 6.1 bn by 2024. In a quest to fill the chasm between computer understanding and human communication, stakeholders in market are vying to augment the automation. Soaring traction towards cloud NLP has been spurred by palpable penetration of commercial applications in the market. An array of companies is shifting customer communications effort to automated chatbots.
While media companies count on NLP to write news articles, online marketplaces are using it to spot fake reviews and social media companies use it to filter hateful content. As such, huge investments are predicted in cloud natural processing in the ensuing period. Moreover, demand for this market has surged across industries, including media and advertisement, IT & telecommunication, BFSI, healthcare, among others.
Request for a sample copy of this research report @ https://www.decresearch.com/request-sample/detail/2202
North America has been one of the early adopters of cloud NLP in light of surging investments in big data, machine learning and deep learning. Companies such as Google and Amazon are foraying into IoT and cloud to provide state-of-the-art technology.
Mergers and acquisitions being witnessed in the region are anticipated to fuel cloud natural language processing market forecast. For instance, in March 2017, Google acquired Kaggle, an online community of machine learners and data scientists. Reportedly, Google has acquired minimum 270 companies over the last two decades.
Palpable demand for machine learning has prompted cloud providers to develop natural language processing related services that will potentially cut infrastructure cost and lower the workload. As such, sophisticated features are wooing investors to pour money into AI. For instance, in 2017, over 300% upsurge in investment was apparently witnessed in artificial intelligence.
Google is expanding its footprint in industries such as Artificial Intelligence. Since 2012, the tech giant has acquired over 25 AI-based companies, while Apple has apparently acquired 8 AI start-ups in the last half-a-decade. It is viable to estimate that unprecedented investments witnessed in AI is likely to shape cloud natural language processing market trends.
Major competitive players in the cloud NLP market are Google, Microsoft, Amazon Web Services, Apple Inc., IBM, HPE, SAP SE, and Nuance Communication, Baidu, Dolbey Systems, Facebook, Netbase Solutions
Get this report Customized to your requirements @ https://www.decresearch.com/roc/2202
Table of Content
Chapter 8. Cloud NLP Market, By Application
8.1. Cloud NLP Market share by application, 2016 & 2024
8.2. Information Extraction
8.2.1. Information extraction market, by region, 2013-2024
8.3. Machine Translation
8.3.1. Machine translation market, by region, 2013-2024
8.4. Processing & Visualization
8.4.1. Processing & visualization market, by region, 2013-2024
8.5. Question Answering
8.5.1. Question answering market, by region, 2013-2024
8.6. Others
8.6.1. Others market, by region, 2013-2024
Chapter 9. Global Cloud NLP Market, By End-Use
9.1. Market share by end-use, 2016 & 2024
9.2. Automotive
9.2.1. Automotive market, by region, 2013-2024
9.3. BFSI
9.3.1. BFSI market, by region, 2013-2024
9.4. Consumer Electronics
9.4.1. Consumer electronics market, by region, 2013-2024
9.5. Government & Legal
9.5.1. Government & legal market, by region, 2013-2024
9.6. Healthcare & Life science
9.6.1. Healthcare & Life science market, by region, 2013-2024
9.7. IT & Telecommunication
9.7.1. IT & Telecommunication market, by region, 2013-2024
9.8. Media & Entertainment
9.8.1. Media & entertainment market, by region, 2013-2024
9.9. Research & Education
9.9.1. Research & education market, by region, 2013-2024
9.10. Retail
9.10.1. Retail market, by region, 2013-2024
9.11. Others
9.11.1. Others market, by region, 2013-2024
Browse complete Table of Contents (ToC) of this research report @ https://www.decresearch.com/toc/detail/cloud-natural-language-processing-nlp-market
Browse related reports
Endpoint Security Market Regional Outlook, Growth Potential, Competitive Market Share & Forecast, 2020 – 2026 https://www.marketwatch.com/press-release/endpoint-security-market-is-evolving-with-high-growth-rate-by-2026-2022-07-08
Inventory Management Software Market Competitive Market Share & Forecast, 2020 – 2026 https://www.marketwatch.com/press-release/inventory-management-software-market-segmentation-statistical-forecast-and-competitive-analysis-report-to-2026-2022-07-08