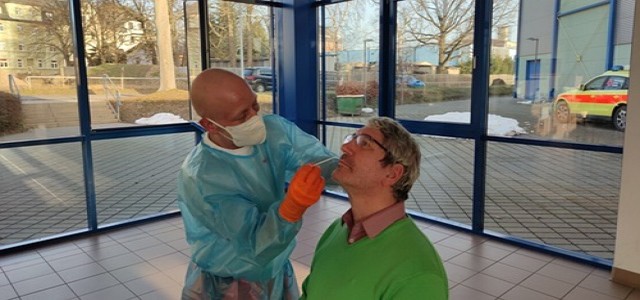 With India aiming to vaccinate the majority of its population, American multinational tech firm Amazon has reportedly launched a new feature and update to its digital smart voice assistant, Alexa, which will help individuals find nearby COVID-19 testing and vaccination centers in the country.
In the last year, Alexa was capable of sharing information regarding COVID-19 related symptoms and cases in India.
With the latest update, the digital voice assistant can now offer information on the availability of the COVID-19 vaccine, the COVID hotline number, information on how to contribute to COVID-19 relief, and much more, cited knowledgeable sources.
Command like 'Alexa, where can I get a COVID-19 test?' or 'Alexa, how can I register for the COVID-19 vaccine?' can give you all answers to your queries. Alexa will utilize the user's device registration to determine their location and provide data on all nearby vaccination clinics.
One can also utilize the 'Vaccine Info Alexa skill' to look for vaccination centers in other states or near other pin codes to help friends and family book appointments. Users must first provide age category and pin code for Alexa to offer them this information.
The tech giant has collaborated with the Union Ministry of Health and Family Welfare and MapMyIndia for this latest update. The Union Health Ministry's website, the Cowin portal, and MapMyIndia will be the information source of Alexa.
In this context, Rohan Verma, CEO and Executive Director of MapmyIndia mentioned that they are selling their services and supporting the Indian public by offering hyperlocal search on Alexa, whether they are on the move or at home.
The latest addition to India's Alexa comes as the number of confirmed COVID-19 cases in the country approaches 31.8 million, with 425,757 deaths reported so far. India reportedly has the world's second-highest number of confirmed cases. Amazon's Alexa, with this update, will significantly help the country's vaccination drive.
Source Credit –
https://www.business-standard.com/article/technology/amazon-alexa-to-provide-info-on-covid-19-testing-centres-vaccines-in-india-121080301953_1.html